The Harvard of Yoga: An Anusara® Yoga Studio
Voted Best in Bergen 2017, 2018 and 2019, Shree is the popular local choice for top-quality yoga and pilates with a personal touch. Most people in this area looking for smaller classes and excellent instruction come to Shree.  We are an Anusara Yoga studio comprised of highly trained teachers offering an elegant system of biomechanical alignment. Read more about Anusara Yoga here.
You should call this physical therapy, not yoga. This is more effective than the three months of physical therapy I did.
A new student
The intention of yoga at Shree is to uplift the mind and spirit while strengthening and stretching the body. In our classes, you will learn an elegant method of alignment, including energy loops, spirals and biomechanical principles. This method enhances body awareness and improves balance, strength, and flexibility while reducing risk of any injury.  We offer a wide range of classes to suit different needs and learning styles.
Shree Yoga Studios offers a wide range of yoga classes in Northern Bergen County, New Jersey.   We are in the town center of Saddle River, NJ just minutes from Rockland County, New York.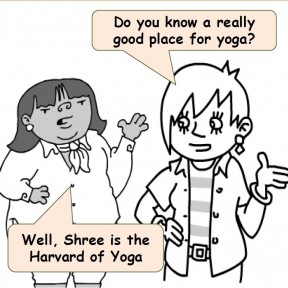 Each student works at his or her own level, finding a comfortable starting point and moving forward from there. First-time yoga students are welcome and will find our beginner classes an easy and fun stepping stone on to the path of yoga.
In addition to yoga classes, we offer a wide range of workshops, a yoga teacher training, and the Shree Immersion Program which gives yoga students an opportunity for in depth study of yoga philosophy, alignment and life style.
We at Shree are dedicated to serving each student. We seek to help you develop your yoga practice in an easy empowered way. Our goal is to support you, seeing the best in you, and to assist you in your experience of finding the best within yourself.
We channel ten percent of our after-tax profits to organizations that serve the under-privileged, locally and internationally. In 2016 and 2017 we donated to: CASANJ, Helping Hands, YCS, Veteran's Yoga Project, Kula for Karma, Doctors Without Borders, Concern Worldwide and SEVA Foundation.
Thoughts From a Teenage Student
The experience of being a student there is that you get transported into a different world.  It's an oasis.  You come out of the rush of your day.  It's in a beautiful setting right on the river.  You have "You time," and a space where you can relax and tone yourself and develop your core.  And it's a very chill and relaxed atmosphere.  It's strong and serene — and not super-sweaty.
10% to Charity
Since our inception, Shree Yoga has donated over 10% of its after-tax profits to charity, including: Heifer International, Kula for Karma, Helping Hands Interfaith Coalition, Neighbor to Neighbor, Bpeace and CASA of NJ.  We were featured in the Wall Street Journal for our charitable contributions to CASANJ in March 2012.
Thoughts From the Owner
Because all our teachers are trained in Anusara Yoga, there's a consistency to our instruction and technique. In addition, each week introduces a new contemplation theme to give more depth to your practice.  Also, our classes are small.  Because of that, they're very safe as you receive personal guidance.