Class Descriptions
Use these descriptions to choose an appropriate level class.  For those new to yoga we recommend starting with: Beginner, Slow Therapeutic, or Restorative & Meditation, and for the more active beginner: Level I.
Beginner

New to Yoga?  Unsure of how to start?  This class is designed for you.  You will receive clear, easy to follow instructions in basic yoga poses, how to position your body, and breathing.  Our expert teachers are patient and kind, and continually move around the class helping each student achieve their optimal poses. Brand new beginners are welcome, no prior yoga experience is necessary and you can join at any time.
Beginner yoga builds strength and flexibility, improves balance and joint mobility, helps you release stress and increases your sense of well-being.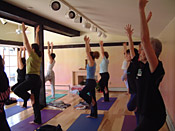 Level I
Level I is for students who wish to grow their practice into a wider range of yoga poses at a more vigorous pace.  We will break down some challenging poses into their component pieces so you can learn them safely and perform them effectively – including basic inversions and backbends. Active beginners are welcome.
You will leave with a sense of accomplishment, increased upper and lower body strength, greater flexibility and a more positive outlook to carry into your day.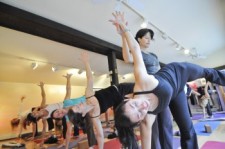 Level I&II
This is a mixed level rigorous and challenging class. It moves at a faster pace, and provides more detailed asana and alignment instruction and includes level II poses such as: arm balances, inversions and deeper backbends. This is fairly strong practice suitable for people who have previous yoga experience and are familiar with the basics.
Benefits include: a strong physical workout targeting both upper and lower body and overall flexibility. An experience of inner connection: body, mind and spirit, leading to a new perspective on life.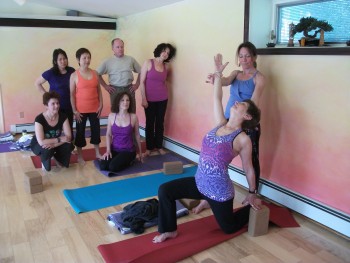 Aligned Flow I&II
This is an alignment-based, vigorous vinyasa class of constantly moving poses, one flowing into the next, set to music. More challenging level II poses: arm balances, inversions and deeper backbends are included. The alignment aspect helps you practice safely while achieving your peak performance. Prior yoga experience is recommended.
This gently aerobic class gives you a different perspective on your practice of poses, increasing stamina in a safe environment that encourages your best performance level.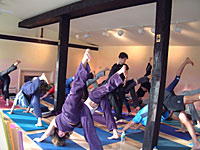 GYROKINESIS®
The
GYROKINESIS
®
Method is a movement method that addresses the entire body, opening energy pathways, stimulating the nervous system, increasing range of motion, and creating functional strength through rhythmic, flowing movement sequences.
GYROKINESIS
®
is practiced on a mat and chair by people of all ages and abilities. Learn the basics with certified instructor Whitney Speer.  
Watch this video
 to see inside a Gyrokenesis class.
No prior experience needed. 
Private Lesson 
This is an opportunity to have one-on-one yoga instruction with the teacher of your choice. In this session the teacher will evaluate where you are in your practice and give you personalized instruction to help you move forward. For new students, this is an optimal way to learn the basic elements of yoga at your own pace and to get all your questions answered prior to attending a group class.  For those with physical challenges, your private lesson will tailor the poses to your body's abilities and teach you how to modify your practice to receive the greatest benefit.
Private instruction answers your questions, and tailors your practice and poses to your specific needs in a safe, private environment. This personalized approach gives you the tools and understanding to get what you're looking for from yoga.
Shree Signature Therapeutic Yoga Classes
All the following classes are designed for beginners and students who need or want a gentle therapeutic and healing approach from yoga.  The classes are generally small and run by teachers trained and skilled in working with yoga to create healing and longevity.  While different classes may have a particular target, you can attend any of them for a gentle therapeutic class.
Restorative Yoga & Meditation
You will leave class with a sense of deep relaxation and calm on every level and with a feeling of balance in your mind and body.
Have you been wanting to learn to meditate? Do you want to release stress?  Then this approach is for you.  It is by far our gentlest class and specifically designed for those who wish to find healing and recovery physically and emotionally, and to learn to release chronic tension and stress.  It includes: slow gentle stretching, breathing exercises, and restorative yoga poses in which the body is supported with blankets and bolsters for deep relaxation, and finishes with a period of guided seated meditation.  The focus of this class is to create an experience for you of deep relaxation and mindfulness.  No prior meditation or yoga experience needed.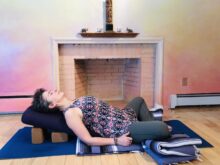 Gentle Therapeutic Yoga
Our unique approach: Gentle Therapeutic Yoga is a class where people in almost any physical condition can move and do yoga safely. Geared towards those who need a very gentle yoga practice including seniors, people with physical challenges, cancer patients and survivors, and anyone looking for a careful and sensitive approach, these small classes include: gentle yoga poses, breathing, and stretching, as well as supported yoga poses done with a therapeutic approach that open the joints and safely stretch muscles, while also building strength. Our teachers are highly trained and will personally attend to each student's individual needs.
If you thought you could never do yoga, this class will work for you. We welcome you in whatever physical condition you may be in and look forward to working with you. Call ahead if you'd like to discuss your situation with us before class: 201-822-1131.  A number of local chiropractors highly recommend our studio and this class was recently mentioned in the Bergen Record.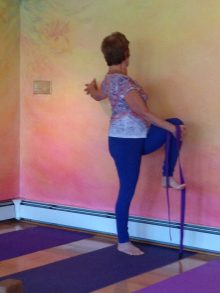 Yoga for Strong Bones
"Forty-four million Americans suffer from low bone mass. Osteoporosis leads to painful fractures due to loss of bone mass; yoga strengthens bones without endangering joints: it stands to reason that yoga is the perfect therapy for osteoporosis. Drugs and surgeries can alleviate pain, but study after study has shown that exercise is the best treatment, specifically low-impact, bone-strengthening exercises―hence, yoga." (Yoga for Osteoporosis by Fishman MD and Saltonstall)
This class teaches poses to strengthen bones, improves bone quality and increase bone mass. Studies show that with consistent careful yoga practice, Osteoporosis can be arrested and even reversed.  Even 10 seconds in a yoga pose can help trigger chemicals in the body that build bone mass.  With yoga, you can protect and lubricate your joints safely for an increased range of motion while building strong bones.  Let's halt the aging process, and strengthen your bones while you are healthy and mobile.
If you are concerned about your bones and would also like to reduce stress and move with more freedom, this slow therapeutic class is for you.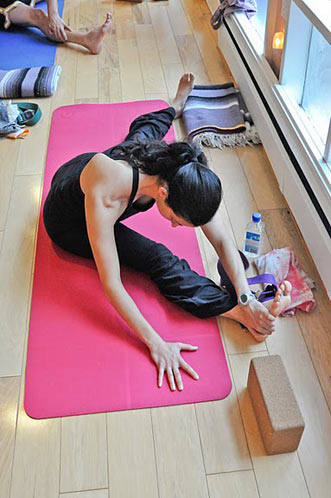 Chair Yoga
In this class we will do modified gentle yoga poses while seated and supported in a chair. These modifications make yoga accessible to people who cannot stand or lack the mobility to move easily from standing to seated to supine positions on the floor. While seated on chairs, students can do versions of twists, hip stretches, forward bends, and mild backbends.
In addition to a good stretch, chair yoga participants can also enjoy other health benefits of yoga, including improved muscle tone, better breathing habits, reduction of stress, improved proprioception, better sleep, and a sense of well-being.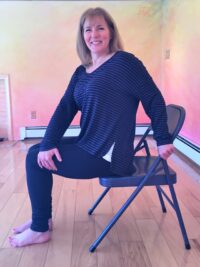 Chair Yoga Plus
In this class we start with modified gentle yoga poses while seated and supported in a chair. As we build mobility the class moves from standing to seated to supine positions on the floor. A perfect fit for those who can get up and down off the floor once and want a gentle and supported class.
In addition to a good stretch, chair yoga participants can also enjoy other health benefits of yoga, including improved muscle tone, better breathing habits, reduction of stress, improved proprioception, better sleep, and a sense of well-being.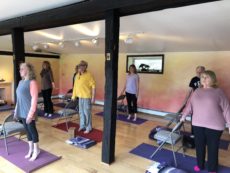 Slow Stretch & Restorative Yoga
This class is designed to help you relax and rejuvenate your body and mind. We will begin with a slow-paced yoga practice that focuses on stretching and releasing tension in the body. We will move through a variety of poses, holding each one for several breaths, allowing the muscles to lengthen and soften. This will help to improve your flexibility, reduce muscle tension, and improve your range of motion.
The class will then transition into a series of restorative poses. These poses are held for longer periods of time with the support of props, such as blocks, blankets, and bolsters. This will help you to relax even deeper and promote healing and regeneration.  The class will end with a period of final supine relaxation (Shavasana) to allow your body to integrate the benefits of the practice and fully relax.
This class is suitable for all levels. No prior yoga experience is necessary.
Benefits you may experience from slow stretch and restorative yoga:
Reduces stress and anxiety
Improves flexibility and range of motion
Relieves muscle tension
Improved range of motion
Improves sleep quality
Promotes overall well-being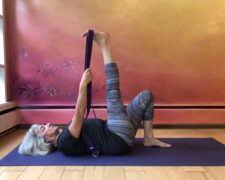 Time to Unwind: Restorative Yoga by Candlelight
Take time and refresh your energy and your attitude with a mix of gentle stretches, supported postures, breathing and meditation.  We will guide you through a series of restorative yoga poses, using bolsters, blankets and belts.  Each pose will be held to encourage a safe, deep opening and a soothing release by candlelight.  See the events link for dates and times.  Bring your yoga mat and an eye pillow if you have one.  Offered monthly during the winter.
This class will calm and energize organs and muscles and heal the effects of chronic stress, leaving you with a greater sense of well-being, deep relaxation and balance.