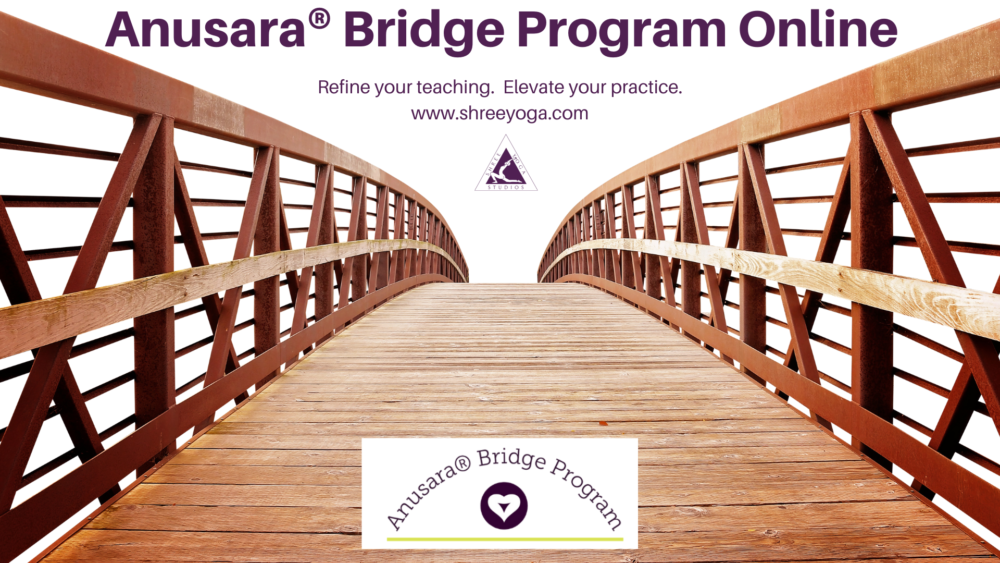 one-on-one *FREE online information session will be held on Sunday, February 5 at 1:00 pm Easter Time.  Email Chaya@shreeyoga.com to make a reservation and receive the Zoom link.
A crash course in all things Anusara for yoga teachers.
The Anusara Bridge Program is for any yoga teacher who has received a 200-hour Yoga Certification in another style of yoga and who is a 200-Hour Yoga Alliance Registered Yoga Teachers (RYT200), or equivalent. It is a pre-requisite to the 300-Hour Advanced Anusara Yoga Teacher Training and will bring you up to speed on the  central teaching elements of Anusara Yoga including Tantric philosophy, Universal Principles of Alignment, and other elements of the Anusara methodology, teachings, and practice.
a. Completion of this program is a requirement before beginning a 300-hour Anusara Teacher Training.
b. The Bridge Program is followed by an exam, in which the trainee must demonstrate an understanding of the central teaching elements of Anusara Yoga.  You will receive elective hours credit for this program.
Included is an additional hour of one on one coaching with Rachel Bush for each student in the Bridge program to integrate the material into their teaching. This hour can be split up into 2 shorter sessions or one long session preferably to be completed by the end of May. It's a lot to cover and digest and we think having some one on one time will really help the material to land.
The Bridge Program can also be taken by those who completed a 200 hour Anusara training as a refresher or for elective hours credit.
Topics
*Teaching with a theme
*Teaching with the UPAs or Universal Principles of Alignment
*Sequencing
*Observation and adjustment
*Tantric Philsophy
*Other components of the methodology such as language & demonstrations
Dates in 2023
March 11-12
April 1-2

April 29-30
Three weekends. 36 hours of instruction and CEUs. 9:00 am – 3:45 pm Eastern Time (includes 45 minutes of break time).
Teacher
Rachel Bush, ECAT, E-RYT500, YACEP
Pre-requisite
Completion of any 200 hour  yoga teacher training program plus two years of yoga teaching experience.
Fee
$767 USD.  Payment plans available upon request.  Manuals are additional.
 Required Reading
Anusara Teacher Training Manual $30
Anusara Immersion Manual $20
Please email Chaya@Shreeyoga.com to pay for and receive digital copies of the manuals.  If you have copies of these manuals, you don't need to purchase them again.  The Manuals are an additional fee to the program fee.
Refund Policy
Refunds are available up until seven days prior to the first class of the Immersion less a $150 administration fee.