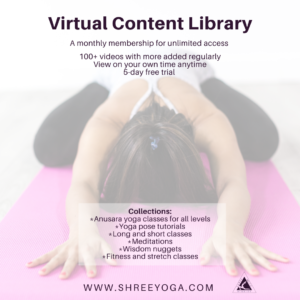 We know you greatly prefer in-person or live online classes. So do we. There's nothing like connecting to your teacher and fellow students and getting direct live feedback from your teacher. For the times when scheduling prevents you from getting to the class, we've created two virtual library memberships of past recorded Zoom classes you can  access on your own time:
The Virtual Content Library $39.99 a month
The Short n' Sweet Library $24.99 a month
The Short n' Sweet Library
is a special collection of 45 videos: 37 general level yoga classes and 8 core workouts from a range of your favorite teachers. Each video is approximately twenty five minutes long giving you a short sweet practice you can do anytime, anywhere.  Start your
membership here. 
Cancel any time.
The Virtual Content Library has about 200 videos and we will continue to add more on a regular basis.
Virtual Content Library collections include:
Yoga for various levels
Meditation
Breathing
Stretching and fitness
Short tutorials on basic poses
Wisdom nuggets
10-30 minute short classes
Here's how to join:
Purchase your membership here.
Your library is accessed from your Punchpass account.
Bookmark the page for easy access and enjoy!
What People are Saying About the Virtual Library
I feel so grateful to have the option of the Virtual Library at Shree Yoga. As my schedule fluctuates during this time of change and uncertainty, it is so comforting to know I can sign on to the library and continue to grow my practice. The library includes a wide variety of classes at all levels and durations, educational tutorials focused on specific poses, meditation and breathing guidance, along with many other offerings. When I am unable to attend a Zoom class, the Virtual Library provides a means for me to remain connected to my practice, my Shree instructors and the Shree community.
~ Annie
Chaya Spencer and her extraordinary team of teachers have compiled a library of endless choices: Beginner and Restorative, Level I and II and Flow, Tutorials, Meditations, Short Classes, Chair Yoga, Wisdom Nuggets, and Stretching classes that meet the needs of anyone at any time. I love the options and take advantage of the classes when it fits into my schedule. Thank you for this essential and exceptional offer that helps me to continually enhance my practice.
~ Sandy
I am enjoying access to Shree yoga classes and meditations through the Virtual Library membership, I can take a class on my own time. It is especially helpful if I can't make a live class. Also if at the spur of the moment a meditation is needed in difficult moments, there it is, right on my phone! Thanks to Chaya and her team at Shree!
~ Mary
Frequently asked questions:
Q: How do I sign up for the free 5-day trial?
A: Click on this link, https://shreeyoga.punchpass.com/passes/95789, enter your credit card info and you're good to go.  After your first five days, your card will be charged for the month and will be charged automatically on the same day each month for as long as you keep your membership.  If you want to cancel after your free trial, before your card is charged, email Chaya and she'll cancel it for you
Q: What would I use this membership for?
A: If you are unable to attend live online classes due to scheduling, or other circumstances, the library would allow you to practice anytime and anywhere.  If you want to take more classes in a week, the library can supplement your existing live online classes.  If you are away on vacation and need to work around family scheduling and can't make the live online class you love, you can find it in the library.
Q: How does my membership to the library support Shree?
A: Your membership provides a very important income stream that helps us pay our rent and other expenses we are no longer able to cover solely with online classes.  Think of it as a sustaining membership, sustaining the physical space of the studio for future use when things have returned to "normal" while providing an excellent resource and service to you.
Q: If finances mean I have to choose between taking live online classes or a membership to the Virtual Content Library, which one do you suggest I choose?
A: We always prefer you to attend live online classes where we can connect with you, give you feedback on your poses and build a sense of community and engagement.
Q: What's in the library in addition to recorded Zoom classes?
A: The library has content created just for it: shorter classes (10-30 min), tutorials on specific poses, meditations and wisdom nuggets.
Q: How often do you add content to the library?
A: We add one or two new videos each week.
Q: How do I find the newest content?
A: Newer content will always appear first in the stream of offerings you look at.  Each video is dated with the day of its upload to the library so you can easily see what was added that week.
Q: I need a gentle class, are there gentle classes in the library?
A: Yes.  The library is divided into different collections.  There is a gentle, beginner and restorative collection where you'll find plenty of offerings.
Q: How do I cancel my Virtual Content Library membership?
A: Email Chaya and she'll cancel it for you.