Shree Yoga Eco Retreat: Into the Heart
Ireland June 22 -29 2018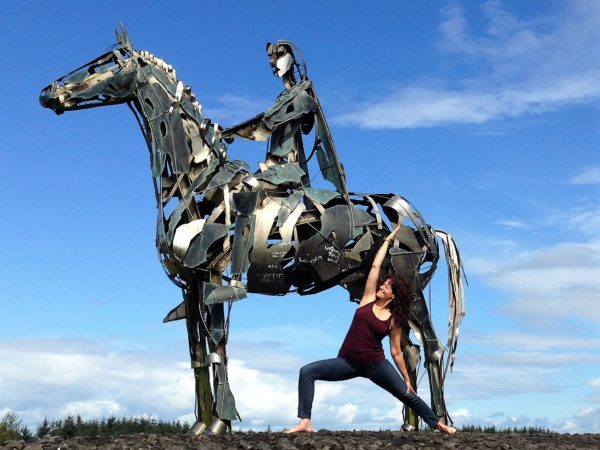 Join Chaya and the Shree Community on a marvelous yoga retreat in Ireland at Ard Nahoo, a world class award winning Eco Retreat set in the wild green hills of County Letrim near Sligo.  
Journey with us into the heart of Celtic culture and spirituality.   With local guides we will delve into the mystery of the ancient Celtic traditions, goddesses and rituals that offer an experience of spirituality connecting the Soul with the land and nature.  Visiting several sacred and historical sites, we'll partake in the mystery of ancient Ireland which Chaya will thread back into our twice daily yoga all levels practice. The journey to these special places combined with deep yoga and meditation is both an inner and an outer voyage.  It provides an opportunity to connect with Spirit and to return to the outer world with clarity of vision; peaceful and refreshed.  In Irish, croí means the heart.  We will connect into the Heart of our being, in the heart of this ancient land with the intention to experience deep and abiding peace.  Join us.
Your Retreat Includes:
Two Daily Anusara yoga classes with Chaya themed around the land, nature, mystical Celtic figures and traditions
Morning croí  (heart) meditation with Chaya
7 Nights/6 days shared (click on link for full details and photos) shared accommodation at Ard Nahoo Eco Cottages
2 Full vegetarian, locally sourced and primarily organic robust meals a day – brunch and dinner
Complimentary soak in the hot tub (requires reservations)
Field Trip to the iconic mountain Knocknarae and Queen Maebh's (Maeve) cairn
Irish dance recital on site
Book Group discussion of Colmn McCann's "Transatlantic".  Read it on the plane or before!
Canoeing trip to the Lake Isle of Inishfree – made famous by WB Yeats
Hiking trails and walks
Dinner out (drinks not included)
Not included:
Airfare
Airport Transfer
Pub visits
A Sample Day on Retreat
7:00 – 7:45 croí (heart) Meditation with Chaya
 8.30 – 10:30  Yoga with Chaya
10:30 Brunch
11:30 – 4:00 Free time or field trip on 3 of the days details below
4:00 – 5:30 Yoga Class with Chaya
6:00 Dinner and free time, social gathering or activity
Ard na Hoo Eco Retreat

Slow Adventure Ireland – Relax at Leitrim's Eco Retreat Ard na Hoo #Leitrim #slowadventure #natureFor more information visit www.slowadventure.ie

Posted by Slow Adventure Ireland on Thursday, October 12, 2017
Field Trips and Free Time 
In the afternoons we will either have a field trip or free time.
Free time:
Your free time is for you to do whatever you want to from taking a nap, coming on a guided hike, booking a sauna, jacuzzi or massage with Ard Nahoo or getting a taxi into Sligo Town or to another nearby place of interest.  For instance, you can take a seaweed bath at the well known seaside town of Strandhill by booking here.  Read an article on the baths here.
Field Trips:
We have a few field trips planned:
Canoe out to the Lake Isle of Innisfree and recite W.B. Yates' poem by the same name on the isle.
Visit Knocknarea and the cairn marking the tomb of Queen Maebh.
Dinner out and live music at a local pub
Details on these trips are listed below.
Registration
Payment in full $1749
Airport Transfer
Some of you may choose to arrive a few days prior or stay a few days after the retreat to do your own site seeing.  For this reason, we are not organzing transportation to or from Ard Nahoo, our venue from the airport.  Ard Nahoo is about a 3+ hour drive from Dublin Airport.  Norwegian Airlines has some very inexpensive flights to Dublin from Newburgh.  If enough people are arriving into Dublin around the same time on the morning of Friday June 22, we will hire a minibus and split the costs.  Otherwise, there is bus and train to Sligo Town and taxi from there to the venue (approx. 20 minutes).  Return to the airport may be similarly organized.  Or, if you're staying on in Ireland to do more site seeing, you can hire a car in Sligo.  Here is the link with more information for getting there on your own.
Some Background on the Historical Sites We'll Visit
From ancient times this wild and remote place in the north west of Ireland has attracted people from as far away as Africa and the Middle East.  It is said that it is to this part of Ireland that the mythical Tuath Dé Dannan, people of the goddess Danu, came to fight for possession of the lands.  Successive groups settling in the west of the country, showed skill and vision with the building of their cairns and megaliths marking their ritual places in the landscape.
One of the most prominent cairns in the Sligo/Leitrim area is the cairn on top of Knocknarea which is visible from miles around and its fame is due to its association with the Queen or Goddess Maebh whose presence in the local landscape is still seen and felt today.  Her mythology tells of a powerful and passionate woman who crossed and re-crossed the country in pursuit of her aims.
Isle of Innisfree, made famous by W.B. Yeats' poem entitled, The Lake Isle of Innisfree, is  a short canoe trip away.  We'll canoe out to the island recite the poem seeking the same sense of peace that Yeats' sought, dropping slow, into our hearts.
I will arise and go now, and go to Innisfree,
And a small cabin build there, of clay and wattles made:
Nine bean-rows will I have there, a hive for the honey-bee,
And live alone in the bee-loud glade.
And I shall have some peace there, for peace comes dropping slow,
Dropping from the veils of the morning to where the cricket sings;
There midnight's all a glimmer, and noon a purple glow,
And evening full of the linnet's wings.
I will arise and go now, for always night and day
I hear lake water lapping with low sounds by the shore;
While I stand on the roadway, or on the pavements grey,
I hear it in the deep heart's core.
~W.B. Yeats