Meditation and Mindfulness Classes
Restorative Yoga and Meditation Classes
You will leave class with a sense of deep relaxation and calm on every level and with a feeling of balance in your mind and body.
Have you been wanting to learn to meditate? Do you want to release stress?  Then this approach is for you.  It is by far our gentlest class and specifically designed for those who wish to find healing and recovery physically and emotionally, and to learn to release chronic tension and stress.  It includes: slow gentle stretching, breathing exercises, and restorative yoga poses in which the body is supported with blankets and bolsters for deep relaxation, and finishes with a period of guided seated meditation.  The focus of this class is to create an experience for you of deep relaxation and mindfulness.  No prior meditation or yoga experience needed.  These classes occur weekly and do not require a reservation.  You can just show up and take the class with your class card or pay the drop in rate at the desk.
Mondays 6:00 – 7:15 PM
Tuesdays 10:30 – 11:45 AM
Thursdays 12:15-1:30 PM
Sundays 11:30 – 12:45 PM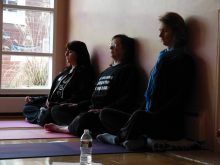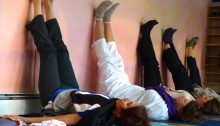 Learn Neelakantha Deep Meditation:
A Foundational Course for a Lifetime of Natural Easeful Meditation

With Elizabeth Doberneck Authorized Neelakantha Meditation Teacher & ERYT 500
Neelakantha Meditation is a profoundly effective practice of deep meditation. Governed by the principle of effortlessness, it allows anyone to ease-fully glide inside to experience deep states of restfulness and to access the source-place of insight, creativity and healing. Many people who have struggled to meditate in the past are delighted to discover how smoothly and deeply they are able to meditate after learning this method. Neelakantha Meditation is simple to learn and practice.  Based on the elegant and sophisticated methods of the Tantric Yoga tradition, it does not involve forced concentration or control of the mind.  Just a few minutes a day reduces stress and fatigue and increases clarity, steadiness, ease and well-being.  Formal personal instruction is the basis for a potent and rewarding practice that over time can bring about genuine life transformation toward greater happiness and fulfillment.
The Course
The course begins with two sessions of formal personal instruction after which you will be fully equipped with the technique and understanding to practice on your own. An eighteen month program of rich meditation offerings further supports you in establishing your practice and monthly group meditations led by Elizabeth provide an opportunity for practice in the company of others and in-person guidance. Free Informational Sessions, Reservations Required
7/30 1:00 PM.  Text Elizabeth to reserve: 646-489-7873
Course Dates and Registration
August 2017 (Limited to 5 participants)
Friday or Saturday, August 4 or 5 1:30 – 6:00 (Session 1 is an individual 2 hour session by appointment)
Sunday, August 6 2:00 – 6:00 (Session 2 is a group session)

$465  or $450 with cash or check at the studio
Full time student: 18-26yrs old: $360 with cash or check only
Over 86 years $0