Meditation and Mindfulness Classes
Restorative Yoga and Meditation Classes
You will leave class with a sense of deep relaxation and calm on every level and with a feeling of balance in your mind and body.
Have you been wanting to learn to meditate? Do you want to release stress?  Then this approach is for you.  It is by far our gentlest class and specifically designed for those who wish to find healing and recovery physically and emotionally, and to learn to release chronic tension and stress.  It includes: slow gentle stretching, breathing exercises, and restorative yoga poses in which the body is supported with blankets and bolsters for deep relaxation, and finishes with a period of guided seated meditation.  The focus of this class is to create an experience for you of deep relaxation and mindfulness.  No prior meditation or yoga experience needed.  These classes occur weekly and do not require a reservation.  You can just show up and take the class with your class card or pay the drop in rate at the desk.
Mondays 6:00 – 7:15 PM
Tuesdays 10:45 – 12:00 PM
Thursdays 10:45 – 12:00 PM
Sundays 11:30 – 12:45 PM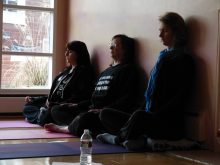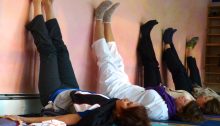 Full Moon Radiance Meditation
With Elizabeth Doberneck Friday, September 6 6:30 – 8:00 PM
$30 in advance, $35 at the door
The radiant light of the full moon is considered to be an especially conducive time for contemplative practice.  The serene rays of the moon reflect back to us the luminosity and wholeness that is the natural condition of our own consciousness.  This evening is an opportunity to take advantage of this monthly invitation to reconnect and deepen our access to inner clarity.
We'll prepare for meditation by first inspiring the mind and heart with the famously beautiful teaching myths of the Shaiva Yoga Tradition about the quality of Soma, praised as the primordial nectar of immortality and understood to be the authentic nectarean essence of our own heart which we taste in deep meditation.
We'll then move through a lunar cycle of the yoga practices of breath, mantra, and asana to ease the way inward.  Whether you already have a meditation practice or are seeking to cultivate one, this gathering will be an opportunity to go deep, to restore and nourish yourself.  Beginners welcome.  No prior experience needed.
Elizabeth Doberneck is a certified Anusara teacher and an authorized teacher of Neelakantha Deep Meditation as taught in Blue Throat Yoga.
Learn Neelakantha Deep Meditation
A Foundational Course for a Lifetime of Natural Easeful Meditation

With Elizabeth Doberneck Authorized Teacher of Neelakantha Meditation as taught in Blue Throat Yoga & ERYT 500
Upcoming course dates: October 11 – 13, 2020
Attend a free information session by texting Elizabeth to reserve: 646-489-7873 
Sunday 9/8 from 1:00 -1:30 pm
Sunday 9/15 from 1:00 -1:30 pm
Sunday 9/29 from 1:00 -1:30 pm
Neelakantha Meditation is an elegant and easy to learn practice of deep meditation that is governed by the principle of effortlessness. It does not involve forced concentration or other forms of effortful manipulation of awareness. For this reason even those who have struggled to meditate in the past are delighted to discover how easily and deeply they can meditate after learning Neelakantha Meditation. Regular practice naturally brings about many benefits to daily life, including:
Profound rejuvenation of the body and mind
Stress relief
Increased insight, compassion, fortitude
Greater capacity to engage with life's challenges
Increased sense of connection, fulfillment and meaningfulness
Course Dates and Registration
October 11 – 13 2019
Fees
$465 or $450 with cash or check at the studio
$360 for full time student: 18-26 years old: with cash or check only
360 for seniors 75 – 85 years old: with cash or check only
$0 over 86 years old
October 12 and 13 $465