We've moved all classes to an online platform called Zoom for the time being. Some teachers will teach from their homes. Some will teach from the Shree studio.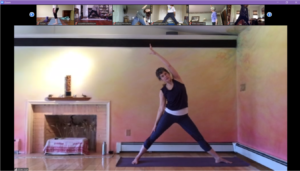 At these times of communal stress, yoga and meditation offer an opportunity to ground and steady ourselves, to move and breathe more easefully.  Through yoga we can connect to that which is most important.  ~ Chaya
You'll continue to use your class card and will be able to purchase a new card as needed. When you purchase a new card , we will email it to you, so you can print it at home.  You can also purchase a single class and show the receipt to the teacher.  Right before class begins, the teacher will ask you to mark off and date the class on your card or receipt.  If this is your very first online class with us, we're offering: Your First Class $10 deal here.
How do Zoom classes work?
Here's a one minute tutorial
Our new schedule is online.
TEN MINUTES before the start of the class you wish to join, click on the link provided, or you can just use this link, here: https://zoom.us/j/2018221131
You will need the Zoom password.  Sign up for our daily emails which include the password each day.  Or, email or call Chaya.
If Zoom asks for a meeting ID, it is our phone number: 201-822-1131.
Zoom will download and open automatically. Use Chrome or Safari.  Close all other applications, email, notifications, and so on.
Go to full screen on your device. Turn off all phone ringers.
Zoom will often work better if you are close to your internet wifi hub.
If you're new to Shree, email Chaya@Shreeyoga.com to set up your initial registration.
Before your class
Have ready a pen and your class card or receipt
Set up your mat in a quiet, clutter free space. Have a strap, neck tie or belt and a blanket.
Set the short edge of your mat facing the computer so the teacher can see you as you practice. The teacher will practice along with you, so you can see the poses. The teacher will periodically look for corrections and speak to you through the computer.
See instructions for chair and restorative classes at the bottom of this page.
During your class
Upon entering Zoom, your mic will be un-muted so we can all converse as normal. As class starts, your mic will be automatically muted to create a quiet space for all.
Your teacher will greet you, sign you in virtually and teach the class.
Chaya will be online to help assist with technical difficulties during class. You can communicate via the Zoom chat feature, email chaya@shreeyoga.com or phone 201-822-1131.
 For a chair yoga class you'll need
A sturdy, armless chair placed on a non-slip surface so the chair cannot accidentally slip
Room around the chair to move and stand as we do in class
Your computer, laptop, iPad or tablet at table height, facing your chair so you can easily see it
Yoga blocks, a blanket, a strap. A few thick books will work instead of blocks. A medium towel or necktie will work instead of a strap. And, a tennis or other ball.
For a restorative yoga class you'll need
Your yoga mat
4 firm blankets OR throw blankets. Beach towels or bath sheets will also work
A bolster OR 2 king or standard bed pillows OR 3-4 firm throw pillows or roll pillows
An eye pillow, mask or towel to cover your eyes and help you relax deeply
We'll show you how to creatively use what you've got!