Journey to the Heart of Anusara Yoga 2020
A Celebration of the Divine Feminine
A weekend Anusara Yoga retreat at the Kripalu Center for Yoga ~ Stockbridge, MA
Please join us for a  spectacular weekend retreat and Journey to the Heart of Anusara Yoga: A Celebration of the Divine Feminine and
An Anusara Regional Northeast Gathering
With senior Anusara certified teachers: Jacalyn Prete, John Seelye and Chaya Spencer
Inspired by the three Hindu goddesses of the creation cycle—Kali the dissolver, Saraswati the creator, and Lakshmi the sustainer—this retreat brings together three of Anusara® Yoga's most skilled and passionate East Coast leaders for a powerful weekend of connection, rejuvenation, and community-building. Together we move through the cycle to dissolve that which needs to be released, create a new intention for spiritual growth, and cultivate practices that honor our highest potential.
Through daily asana, and morning meditation, pranayama, yoga nidra, contemplation, journaling, and kirtan, we explore:
~ Refinements of Anusara Yoga methodology
~ Anusara's Universal Principles of Alignment™
~ How to integrate the wisdom teachings of nondual tantra into your life, on and off the mat
~ Goddess-themed asana practices.
This gathering welcomes both teachers and students of all yoga styles and levels of experience.
"I loved how all the teachers worked as one incredible team. I liked the new approach for poses I knew. Loved how the theme has been woven together with all stories and asana." —Vanessa R.
"[The presenters] quickly created a sense of community; great pacing across the entire weekend; amazing depth of knowledge and teaching." —Cheryl D.
Schedule
Friday, April 17 – Sunday April 19
FRIDAY
2:15 pm Check-in begins
5:30–7:00 Dinner
7:30–9:00 Retreat Welcome
SATURDAY
7:00 – 7:30 Meditation
7:30 – 8:30 Breakfast
9:30 -12:00  Goddess Asana
12:30 – 1:30 Lunch
11:30 – 2:30 Free Time
2:30 – 5:00 Goddess Asana
5:30-7:00 Dinner 
7:30 – 8:45 Evening Programming
SUNDAY
7:00 – 7:30 Meditation
7:30 – 8:30 Breakfast
9:30 -11:30 Goddess Asana
11:30 – 1:30 Lunch and departure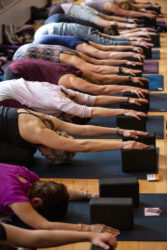 Registration
Tuition: $265.00 (plus room and meals).
Housing costs for all program nights includes daily meals. Learn More About Accommodations
Register directly with Kripalu using the button below.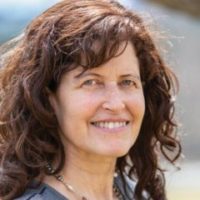 Meet Chaya
Chaya Spencer, E-RYT 500, is a certified Anusara® Yoga teacher and the founding director of Shree Yoga in Saddle River, New Jersey. Born and raised in New York City, Chaya has been meditating since the age of six and first went to India to study meditation and yoga when she was 14. Chaya has traveled the world with her meditation and yoga teacher, studying Eastern philosophy, Sanskrit, hatha yoga, Indian music, and Indian cooking. She brings the fruits of her long, deep immersion in the yoga tradition, including a felt knowledge of the yogic texts and philosophies. A gifted teacher, her classes offer something for everyone.
Meet Jacalyn
Jacalyn Prete, certified Anusara® Yoga teacher trainer, shares a deep passion for the wisdom teachings of yoga and therapeutics with her students in New York City, Japan, and Europe. She brings 25 years of teaching experience to her position as Co-founder and former Certification Director as certification chair for the Anusara School of Hatha Yoga. A certified Yoga Health Coach, Jackie shares the teachings of Ayurveda with students throughout the world in her signature teleconference course, The Body Evolves. She has studied with numerous teachers, including Cate Stillman, John Friend, Bill Mahoney, Desiree Rumbaugh, and Ellen Saltonstall.
Meet John
John Seelye, a senior yoga instructor with more than 25 years of teaching experience, is well versed in all levels of yoga practice, yoga therapeutics, and subtle energy biofields through the use of Pranic Healing and Reiki. John is a certified Anusara® yoga instructor, a graduate of the Urban Zen Integrative Therapy program, Pranic Healing Level III, Reiki Level II, and yoga therapy programs. He's a longtime meditation practitioner, and his lifelong interest in human potential continues to fuel his journey. In addition to teaching yoga, John is on the board of directors of the Anusara® School of Hatha Yoga, serving as board president.
Location
Our retreat will be held at Kripalu Center for Yoga and Health in the beautiful Berkshire Mountains of Stockbridge MA.  Click here for directions.