Shree Yoga Teacher Training8
Find Your Voice. Transform Lives.
Approved by Yoga Alliance RYS-200
With E-RYT 500 Chaya Spencer, and E-RYT 500 Rachel Dewan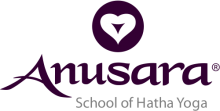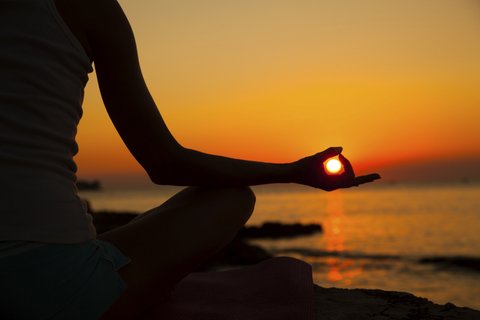 You will be guided with patience and compassion to find your unique voice and a personalized way to bring forth your gifts through learning to teach yoga. This is a rigorous 200+ hour Anusara® yoga teacher training program led by two of the most senior and skillful Certified Anusara Yoga teachers in New Jersey. This program is for those wanting to learn how to teach, or for teachers wanting to learn how to teach using Anusara methodology and techniques.
I was a little hesitant to sign up as I felt my practice was not at the level that it "should be" to become a yoga teacher but my love of the practice outweighed my hesitancy.  I have come to realize that there is no "should be."  We were a large and varied group of students and each one of us came to the training with different abilities and different backgrounds. We were all honored for where we were and encouraged and fully supported throughout. Alison Simpson
2017 – 18 Weekends
We regularly run 200 hour Teacher Training Courses. If you are interested in taking our training, please contact Chaya@shreeyoga.com for dates, details and to apply.
September – May one weekend a month.
Fridays 6:30 – 9:30 pm
Saturdays 1:00 – 8: 00 pm
Sundays 1:00 – 8:00 pm
This extensive training covers
Teaching techniques and methodologies
Art of giving clear concise instruction
Weaving themes and philosophy into a class
Hands-on adjustments
Observation and assisting
Yoga philosophy including Yoga Sutra and Bhagavad Gita
In-depth study of Universal Principles of Alignment
Teaching meditation
Ethics of a teacher
Sanskrit terms, mantras and pronunciation
Anatomy and therapeutics with special guest teacher
Sequencing, pacing and curriculum
Restorative yoga with special guest teacher
Introduction to pre-natal yoga with special guest teacher
The business of teaching yoga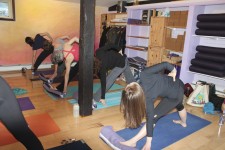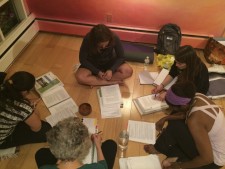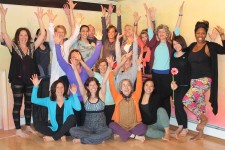 Prerequisites
At least 1 year of dedicated yoga practice.
Demonstration of a sincere desire to learn, grow, receive feedback and be coached.
At Home Study
The course also includes 100+ hours of robust self-study: structured observation, written homework, required reading, assisting, being mentored, personal home practice and teaching practice.
Observation:  observe at least 3 Shree classes with three different teachers and fill out the observation sheet for each.
Assisting:  Assist three classes at Shree over the course of your training.
Attend five Small Group Mentoring Sessions: these sessions with a trained teacher from Shree and a small group of other Teacher Trainees will give you the chance to refine your skills and practice teaching with constructive and supportive feedback.  10 hours total.
Home Practice 2-3 times a week minimum of 20 minutes each
Practice teaching 3 classes a month to friends or family
Attend 1- 2 classes at Shree a week
Completion Requirements
For Shree Yoga's Certification through the National Yoga Alliance:
Complete the entire Teacher training course with 100% attendance. This includes attendance at all parts of all classes. Any missed classes will jeopardize your certification. In extenuating circumstances missed training can be made up by private instruction with the teacher at a rate of $100 per hour.
Complete all required reading and writing assignments on time
Attend all mentoring sessions
Complete the final open book exam and teaching exam
Go to at least one supplementary Shree Yoga class each week and keep a logbook regarding classes taken.  Take all different level classes.
Demonstrate integration of all materials taught:

Teach with confidence and clarity
Introduce a theme and weave it through the class
Instruct the basics of each posture using plain, clear inspiring language and breathing queues
Teach all 5 Universal Principles of Alignment in order consistently
Teach using focal points, loops and spirals
Pay all fees and outstanding balances.
Complete At-Home Study Requirements (see below)
It will also be expected that participants purchase several texts.  Reading lists will be sent out upon registration.
Complete a CPR course (one will be available during the training at Shree)
Registration with the National Yoga Alliance
Once you complete all of your work and demonstrate that you have integrated the Anusara teachings you will be certified as a Hatha Yoga Teacher and will receive your Shree Yoga Teacher Certificate. You may then submit your certificate to and register with the National Yoga Alliance at the 200-hour level. For an application, call: 877-964-2255 or go online to register at: www.yogaalliance.org.  You will also be eligible for the Anusara Elements status.
About Chaya Spencer and Rachel Dewan
Chaya Spencer, Certified Anusara Teacher, E-RYT 500 and Founder of Shree Yoga Studios has been a student of yoga and meditation since 1969 when she was introduced by her Mother to her first Indian Guru and began to meditate at the age of 6. Born and raised in New York City, Chaya traveled to India when she was 14 to study yoga and meditation. From 1978-1992 Chaya lived in a spiritual community, or Ashram, and traveled repeatedly between India and the US studying and teaching meditation, yoga, Sanskrit, Indian philosophy, music and cooking.  She received her first yoga teacher certification in India in 1990.  Chaya received her Anusara Certification in 2002. Read more about Chaya here.
Rachel Dewan is a Certified Anusara Yoga Teacher and E-RYT500, but more importantly, she is a seeker.  For as long as she can remember, she has read, studied, journaled, listened, practiced, and prayed. Naturally in her adult life this led her to yoga where, from her first class in college in 1995, she experienced a feeling of connection, support and ease. Yoga became a path of learning and lifelong practice that has helped to shape her life in all aspects, reminding her that when we open to the power of grace in every moment, we can choose the life we desire to live. Read more about Rachel here
Tuition, Discounts and Payment Options
Full tuition is $3800 or $3500 early bird discount by July 4 (save $300)  plus cost of required books.  A list will be sent at the time of registration.  You can reserve your spot with an $800 deposit submitted with your application form.  Payment plans are available, please see below.
Early Bird
$300 off before July 4th
Payment in Full
After July 4th
Payment Plan
There is an $800 deposit to hold your place.  Then, 6 payments of $500 each due on the Friday night of the training as follows:  $500 September 15, $500 October 13, $500 November 10, $500 December 8,  $500 January 12, and $500 February 9.  Payment for this option can be made with cash or check only at the studio or mailed to our office: Shree Yoga, 12 Barnfield Court, Upper Saddle River, NJ 07458.  You are liable for all the payments even if you withdraw.
Refund Policy
Up to September 15, 2017 the $800 deposit and any other fees paid are refundable minus $200 administration fee. No refunds will be issued after September 15.  Your deposit will be returned in full if you are not accepted into the program.  If you are on a payment plan, you are liable for the full amount of the plan even if you withdraw.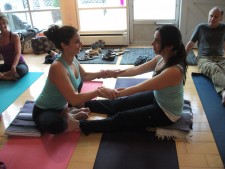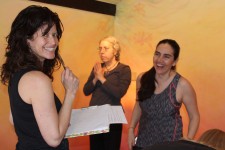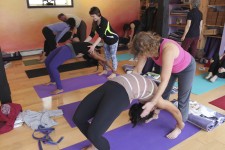 One of the unique things about this course, was the opportunity we had to meet with mentors in smaller groups.  In our mentoring sessions, we worked with highly qualified teachers in an intimate setting.  The allowed us to really grasp important concepts, and have a chance to work through any concerns or learning blocks that came up.  In addition to the mentoring sessions, we also had the opportunity to hear from guest speakers who were able to inform us of their particular specialty. This is a program suitable for all yogi's, whether aspiring to be teachers or not.  Going through this program will enrich your life in ways you would never have imagined! Nancy Gross
As a 200 hour RYT hatha trained yoga teacher, I was eager to hone my craft and Anusara yoga, with its clear and systematic principles of alignment and its heart oriented theming, was the way.  Chaya has created an organized and comprehensive program through which she freely and humbly shares her wealth of experience and depth of knowledge. She was unfailingly clear and direct, while at the same time being encouraging and compassionate.  Chaya's big smile and the twinkle in her eyes display her love of yoga, her love of teaching and her love of her students. I am so grateful and honored to have been a part of the Shree Teacher Training Class of 2014! Nancy Seeback
Choosing the Shree Yoga Teacher Training program was the smartest move I have made in a while. Chaya has just given me all the tools I need to become a very good yoga teacher in the Anusara style of yoga. She has immeasurable amounts of knowledge, patience and grace and knows and understands how to teach people so that they really understand the material. Chaya has built a solid and abundant curriculum that is followed throughout. She has transferred and shared her knowledge with us very clearly and precisely. The Shree team of Anusara yoga teachers like Rachel and Elizabeth are unbelievably amazing mentors to our smaller groups. If you want a vigorous and prestigious certificate with the best teachers around, you have come to the right place! Leeron Benesch
Being in the Teacher Training at Shree has truly changed my life and brought about an awakening of grace and faith within myself. The heart inspired teachings of both Chaya and her assistant, were wonderfully meaningful and full of inspiration. This training was not only extremely organized and rigorous but empowering as well. I have received an abundance of knowledge that will help me be an inspired teacher; therefore able to help others follow their heart and their dreams. Anne Dixon