Workshops, Series and Special Classes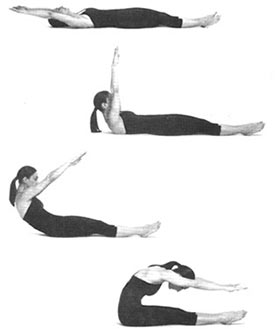 Summertime Evening Pilates Mat Series
With Whitney Speer Mondays June 12 – July 31   7:30 – 8:30  PM
Drop-ins welcome.  $22 or a class from your card.
Shree Community Field Trip:  Garden Tour, Hakonechloa Grass Meditation, and Lunch
Silas Mountsier's private Nutley garden — featuring hidden garden rooms, a clumping grove of bamboo, geometric hornbeams cut into rectangular pillars, a huge sweep, some 10,000 Japanese forest grasses, a hill of liriope, and nearly 180 outdoor art objects.  We will tour the garden, meditate there, enjoy lunch and being together in community and beauty.  See a video of the garden here.
Date: Sunday, June 25th 10:30 am
Bring: A towel or small mat to sit on the grass for a 15 minute meditation
Carpool: Meet at the Shree back parking lot at 9:50AM.  Or, meet us there at 10:30 sharp.
Lunch: Salad with chicken kebabs, humus. A Vegetarian option of roasted vegetables with salad and humus is available upon request no later than June 19.  Email Josie if you want the veg option: josie_ko1@me.com
Where: Silas Mountsier Garden, 205 Rutgers Place, Nutely, NJ.
Charge: $45 includes garden tour and admission, Hakonechloa grass meditation, lunch, water, tax & gratuity.
Sign up and pay by June 19.  No refunds or further registrations after June 23 as we will have committed to the restaurant for your meal rain or shine.  Limited to the first 26 people who sign up.
$45

Yoga Spa
Gentle Yoga, Massage, Reiki & Aromatherapy
With Chaya Spencer and Karyn Petersen  Sunday, July 9 4:00 – 5:30 PM
$60
Shree Yoga Book Group
Sunday, July 16  4:00 – 6:00 pm
No charge
Monthly Melt: Melt Your Whole Body in 90 Minutes
With Jill Slater, Friday July 29  6:00- 7:30  PM
$35 Reservations required.
Here you can create the content that will be used within the module.
Monthly Melt: Melt Your Whole Body in 90 Minutes
With Jill Slater, Friday September 8 6:00- 7:30  PM
$35  Reservations required.
Learn Neelakantha Deep Meditation 
A Foundational Course for a Lifetime of Natural Easeful Meditation
With Elizabeth Doberneck, Saturday and Sunday afternoons June 16 and 17
A profoundly effective practice of deep meditation governed by the principle of effortlessness Neelakantha Meditation allows anyone to glide easefully inside to experience deep states of restfulness and to access the source-place of insight, creativity and healing.  Many people who have struggled to meditate in the past are delighted to find how smoothly and deeply they are able to meditate after learning this method.
It begins with two sessions of in-person individual instruction after which you will be fully equipped with the technique and understanding to practice on your own. You will then receive eighteen months of further guidance and support to help you establish and deepen your practice.  Monthly group meditation meetings led by Elizabeth also offer the opportunity to practice and study in the company of others.  Click here for more information.
Monthly Melt: Melt Your Whole Body in 90 Minutes
With Jill Slater, Friday October 6th 6:00- 7:30  PM
$35  Reservations required.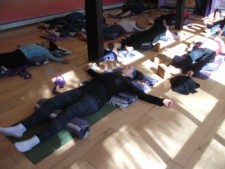 Friday Night Yoga Nidra
With Jackie Owen, Friday, June 2nd  6:30- 8:00  PM
$22 or a class from your card. No reservations needed.
Finish the work week with a relaxing yoga practice.   We will begin with 45 minutes of gentle yoga, slowly and mindfully stretching the body while incorporating the awareness of breath.  Moving with the breath, we'll release the tension of the week helping you to relax and unwind.  The gentle movement will prepare you for an extended 45 minute Yoga Nidra practice.  Yoga Nidra, or "yogic sleep" is a guided meditation for deep relaxation that turns off "fight or flight" and turns on the relaxation response, the body's natural healing state.  It is a systematic method of complete relaxation and peace not only for the physical body but for the deeper emotional and mental systems.  Experience deep calm, quiet and clarity as it relaxes you at every level of your being so you feel a sense of wholeness.