Workshops, Series and Special Classes
Monthly Melt: Melt Your Whole Body in 90 Minutes
With Jill Slater, Friday April 28  6:00- 7:30  PM 
SORRY, THIS IS SOLD OUT.  REGISTER NOW FOR THE MAY AND JUNE MELT METHOD CLASSES BELOW.
$30     Reservations required.
Shree Field Trip to Ananda Ashram
Sunday, April 30
Close by, in Monroe NY, there is a lovely ashram set in nature on a lake. An ashram is a place of refuge, dedicated to the practice of yoga, meditation and spirituality.  Join Valerie and the Shree Kula for a field trip up to the ashram for yoga, lunch, exploration – any or all.
Here is the optional schedule:
11:00am Anusara Yoga flow class taught by Elias ($15)
12:30pm Delicious home cooked vegetarian lunch ($10)
2:00pm Guided tour and 30 minute gentle hike, weather permitting
3:00pm Gift shop stop
Those wanting to take the yoga class meet at Shree at 10:00 to carpool.
Those wanting to just go for lunch and the afternoon, meet at Shree at 11:30 to carpool
Those preferring to drive on their own and meet us there are most welcome as well.
Reservations and Questions: The Ashram would like to know by April 28 how many are coming for the yoga class, and how many are coming for lunch.  All fees will be paid directly to Ananada Ashram on site.  To reserve: sign up at the Shree desk by April 28, or email Valerie at valerieyogi@yahoo.com  with Shree/Ananda in the subject line.
Address:
AnandaAshram
13 Sapphire Rd,
Monroe, NY 10950
http://www.anandaashram.org/
If you'd like to just meet us there either for the yoga class or just for lunch and tour, here is a link to the directions: http://www.anandaashram.org/TravelDirections
Transcendental Breathwork Workshop
With Megan Gouldner  Friday, May 5, 6:30 – 8:30 PM
$45 in advance, $50 at the door
For thousands of years Yogis, Sages and Shamans have used systems of breath work for mastering fear, healing illness and attaining states of enlightenment. In this workshop, Megan will guide you through a powerful technique: a safe conscious-connected breath cycle to help stimulate the body's natural ability to cleanse itself and heal limiting thought patterns and belief systems trapped within our cellular memory.  Some benefits include:
70% of biochemical toxins are removed from the body through the breath. Conscious Breathing is a detox.
Conscious Connected Breathing helps balance the hemispheres of the brain, enhancing the endocrine, nervous and cardiorespiratory systems.
This technique supports emotional integration
Join us as we celebrate the Wheel of the Year, breathing into the magnificent power of Spring invoking new life, a rebirth and the remembrance of the that which you already are. We look forward to breathing with you!  Bring a yoga mat and a cozy blanket.
Megan Gouldner is a Non-Verbal Communication Specialist, Seminar Leader and an Alternative Medicine Practitioner. She has created an eclectic system of Bodywork based on the Collard Method – combining the observation of Body Language, Structural Integration, Energy Healing and Intuition.  The breath is a powerful tool for transformation. Learning to access its power is a gift, one I am honored to share. If you have further questions, feel free to email Megan at: artoflistening@me.com
Shree Yoga Book Group
Sunday, May 7 4:00 – 6:00 pm
No charge
Mother's Day Monthly Mellow
With Karon Shovers, Friday May 12 6:30 – 8:00  PM
$22 or a class from your card.    Reservations required.
Monthly Melt: Melt Your Whole Body in 90 Minutes
With Jill Slater, Friday May 19  6:00- 7:30  PM
$30  Reservations required.
Here you can create the content that will be used within the module.
Yoga for Runners
With Rachel Dewan, Sunday, May 21 from 2:30-4:00 PM
$25 in advance or $30 at the door
Reservations required.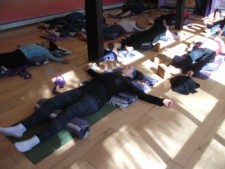 Friday Night Yoga Nidra
With Jackie Owen, Friday, June 2nd  6:30- 8:00  PM
$22 or a class from your card. No reservations needed.
Finish the work week with a relaxing yoga practice.   We will begin with 45 minutes of gentle yoga, slowly and mindfully stretching the body while incorporating the awareness of breath.  Moving with the breath, we'll release the tension of the week helping you to relax and unwind.  The gentle movement will prepare you for an extended 45 minute Yoga Nidra practice.  Yoga Nidra, or "yogic sleep" is a guided meditation for deep relaxation that turns off "fight or flight" and turns on the relaxation response, the body's natural healing state.  It is a systematic method of complete relaxation and peace not only for the physical body but for the deeper emotional and mental systems.  Experience deep calm, quiet and clarity as it relaxes you at every level of your being so you feel a sense of wholeness.
Learn Neelakantha Deep Meditation 
A Foundational Course for a Lifetime of Natural Easeful Meditation
With Elizabeth Doberneck, Saturday and Sunday afternoons June 3 and 4
A profoundly effective practice of deep meditation governed by the principle of effortlessness Neelakantha Meditation allows anyone to glide easefully inside to experience deep states of restfulness and to access the source-place of insight, creativity and healing.  Many people who have struggled to meditate in the past are delighted to find how smoothly and deeply they are able to meditate after learning this method.
It begins with two sessions of in-person individual instruction after which you will be fully equipped with the technique and understanding to practice on your own. You will then receive eighteen months of further guidance and support to help you establish and deepen your practice.  Monthly group meditation meetings led by Elizabeth also offer the opportunity to practice and study in the company of others.  Click here for more information.
Yoga Spa
Gentle Yoga, Massage, Reiki & Aromatherapy
With Chaya Spencer and Karyn Petersen  Monday, June 5, 7:30 – 9:00 PM
$60 Limited to 12 students
Join us for a private group session like no other.  Limited to twelve students, this unique approach aims at healing through profound relaxation and gentle hands on movement and energy work. Your candlelit session occurs in three in-place phases:
Yoga: a customized, gentle practice
Restorative Yoga: with Aromatherapy to increase relaxation
Massage and Reiki: with massage therapist and Reiki Master Karyn Peterson during the restorative and shavasana segments.
Each phase will move you deeper into a state of profound relaxation where healing can occur. Participants leave feeling refreshed and rejuvenated.
Monthly Melt: Melt Your Whole Body in 90 Minutes
With Jill Slater, Friday June 9  6:00- 7:30  PM
$30  Reservations required.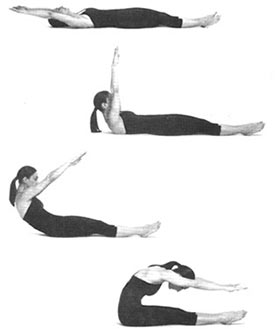 Summertime Evening Pilates Mat Series
With Whitney Speer Mondays June 12 – July 31   7:30 – 8:30  PM
$130 for this  seven class series (no class on July 3)